01. Original glass-surface

02. Start up the innovative ennobling with new pure glass-particles, which forms a unity with the existing (base) glass

03. The raw glass surface fills up entirely autonomous and creates a unique unity with the existing (base) glass

04. Complete ennobled glass, with which a lifelong functionality is within reach*
Our innovative glass finishing results in a strong molecular connection with the atomic structure of glass, this technology allows for the original properties of the glass to be maintained at a rate of 99.9%, without any issues with assembly or sealants.
Unlike traditional glass protection developments, the principle focuses on the atomic refinement of already existing glass. Unlike current surface-protection methods, it activates itself entirely from within the glass. This results in the development of completely new and powerfully protective properties during the activation process.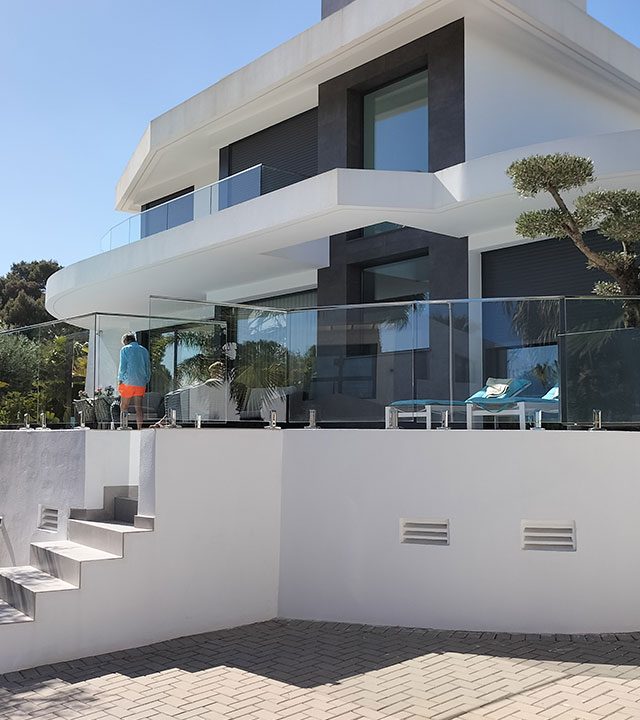 This creates a solid unit with the existing glass, forming a relatively unknown vision of glass surface protection for the glass processing industry. When glass particles form a unit from an atomic-specific perspective with the existing glass, a powerful and lifelong functionality is within reach. 
The covalent bonding of two almost identical elements, in this case, pure glass, creates new glass out of the already existing glass that becomes fully part of the existing glass. 
This process proceeds autonomously from within the glass itself and is powerfully supported through the shaping of new pure glass particles. The new pure glass particles form a robust unity with the existing glass and powerfully optimize the existing properties. 
After the completion of the CristalCare activation process, the officially rough glass surface will noticeably smooth to the touch and demonstrate powerful hydrophobic (water-repellent) properties. The refined glass is theoretically suitable for use from this moment on but is formally at full functionality strength after 24 hours.
You can now experience lifelong protection against negative influences that can damage your glass surfaces with CristalCare products the innovative technology is proven to be highly resistant to viruses, bacteria, graffiti, and chemicals, ensuring your glass surfaces remain protected for their entire lifespan.
Unlike other surface protection techniques, CristalCare's activated glass surface is made up of pure glass particles with an atomic-specific structure. This means that there are no restrictions on using sealants or suction cups during transport, production, or assembly. Even UV bonding or adhesion from stickers on the ennobled glass surface is challenging due to the incredibly smooth structure, but practical solutions are available.
CristalCare is a unique patented process that provides protection from within the glass itself, rather than just on the surface. This revolutionary approach allows for powerful, lifelong protection based on pure glass that is part of the glass itself.
When protected glass undergoes an additional process, such as glass sealant or UV bonding, traditional chemical-based glass protection developments may present some limitations during processing. However, these limitations occur primarily during assembly or installation.
At EverClear we offer a lifetime warranty for interior glass and 15 years for external glazing projects, providing you with peace of mind that your glass surfaces are protected for years to come.
Self-cleaning
Suitable for both indoor and outdoor use, including in seawater environments
Resistant to dirt, frost, and mold
Creates a water and oil-repellent protection layer
Significantly reduces cleaning costs
A glass-bonding agent that is clear in color
Long-term consistent and powerful functionality
Strong water-repellent properties
UV- and weather-resistant
Suitable for on and offshore use
No limitation on the inside glass layer or the sealing of the CC surface
Corrosion-resistant
Does not form a film after application
Antibacterial, preventing adherence of viruses and fungi
A Comprehensive Resistance and Stability Overview
When it comes to multiple glass-sealant connections or UV bonding on protected or coated glass surfaces, it's widely recognized that there are limitations. However, using Cristal Care application these limitations are nearly non-existent due to the careful and precise assembly of pure glass particles. 
Below, we have provided a matrix of tested materials that are not affected, influenced, affected, or incompatible for use with ennobled glass. This comprehensive overview will help you understand the full scope of Cristal Care's resistance and stability capabilities:
At Ever Clear, we believe in providing our clients with the highest levels of quality and performance. Cristal Care ennobled glass technology offers unparalleled resistance and stability, making it the perfect choice for a wide range of applications.